Welcome back to Off the Shelf, a monthly tasting menu of everything literary the Winning Edits team has been devouring!
In this column, I take you on a literary-culinary tour of the Winning Edits team's bookshelves.
Ah, February. That time of year when the promise and excitement of New Year's resolutions have faded, and the novelty of winter weather has turned to drudgery (at least if you live somewhere that's not California, Florida, or Arizona).
Thankfully, we've got some good reads to keep our spirits up!
Here's what our team has been chewing on this month.
Note: This post contains affiliate links.

The Silmarillion
Production Editor David Grabowski is diving into J.R.R. Tolkien's The Silmarillion
, a book he considers "the core of Tolkien's imaginative writing, a work that he could not publish in his lifetime because it grew with him. Its origins stretch back to a time long before The Hobbit. But The Hobbit was caught up in what Tolkien called the 'branching acquisitive theme' begun in The Silmarillion, and eventually The Lord of the Rings emerged from this as well."
Says David, "The book reads like mythology, because it is mythology. It's heady, and there's a lengthy index of names at the back (because there are a lot). But it's also beautiful and poetic. It's a sippin' drink of a book, but well worth the time so far."
It's also given him fresh impetus to revisit the rest of Tolkien's canon: "I'm looking forward to reading The Lord of the Rings again later in the year, this time with much more backstory to understand it with."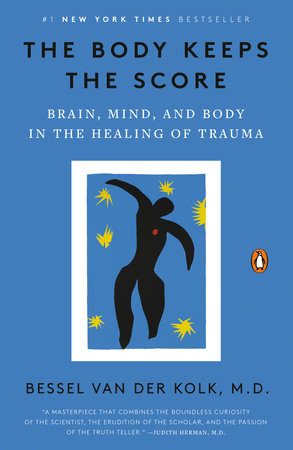 The Body Keeps the Score
Associate Editor Non Wels has been finding immense personal value in The Body Keeps the Score. This book about the trauma we hold in our physical bodies is by Bessel van der Kolk, a psychiatrist who has been researching the phenomenon of post-traumatic stress since the 1970s.
Says Non, "As someone who's experienced a significant amount of trauma—trauma that has affected me deeply in some ways, mentally and physically—this book is a godsend. It gets to the core of how affecting trauma can be, from how we interact with the world and even how we physically move. If you have experienced trauma, or live with chronic pain or mental illness, it's a must-read."
Bodymind
For centuries, scientists and philosophers believed the mind and the body to be distinct. And traditional approaches to psychotherapy have focused on the mind as the "way in," through talk therapy. But in the twentieth century, several thinkers emerged to challenge this paradigm, arguing that the body is as integral and important as the mind, blurring the distinction between the two. Out of this shift grew a number of therapeutic and educational approaches aimed at helping people find health, unwind trauma, and integrate their mind and body into a unified, high-functioning whole.
Bodymind is Ken Dychtwald's account of his journey toward bodymind integration. He recounts his personal experience with  a number of modern, including thosetherapeutic and educational methodsdeveloped by people like Ida Rolf, Wilhelm Reich, Moshe Feldenkrais, and Fritz Perls. Dychtwald weaves elements of these practices into his own theory on how our emotional and psychological selves express themselves through the physical body, and how the body can be a way in when it comes to seeking health and healing.
As someone who's studied movement and bodymind integration for more than a decade, I found Bodymind a refreshing read despite its age—definitely one for the "oldie but goodie" shelf.

Notes from No Man's Land: American Essays
Eula Biss is a professor of creative writing at Northwestern University, author of the book On Immunity, and Managing Editor Karen Beattie's "writer crush right now." As Karen astutely points out, in one of her poems Emily Dickinson said, "Tell all the truth but tell it slant"—and that's, says Karen, "what Biss does in this book of essays by approaching a subject in a roundabout way."
The first essay in Notes from No Man's Land is ostensibly about the history of telephone poles, but it slowly turns into, as Karen explains, "a lament for all of the black men who have been hanged from telephone poles throughout our nation's history." Biss also explains how telephone poles made it possible for the country to be connected by a vast telecommunications network; according to the author, "Even now it is an impossible idea, that we are all connected, all of us."
Devotion: A Memoir
In this 2011 bestseller, one that Editorial Director Janna Maron refers to as a "spiritual memoir," author Dani Shapiro "explores her heritage as an Orthodox Jew and the emptiness in life she began to feel as an adult after the birth of her son." Made up of short vignettes, Devotion "is a journey of searching for deeper meaning, one that Shapiro finds in places she doesn't expect."
Historic Framley
I've been poring with delight over the pages of Historic Framley, the book version of The Framley Examiner, a web-based parodical newspaper of a fictional town in rural England that began in 2001 and ran for eleven years. (Although the site is no longer being updated, its archives are still very much available.)
Historic Framley is the brainchild of four writers, Robin Halstead, Jason Hazeley, Alex Morris and Joel Morris, although the book itself doesn't credit them directly. The book delivers laughs in the absurdist vein of much great British comedy; in fact, it's so quintessentially British it'll make you wince, in a good way. Its dense pages are laid out like a newspaper, with editorials, classified ads, and accounts of local goings-on, all imbued with the most knowing of knowing winks and a joke density that's unrivaled. If you're a fan of British comedy, give it a look. The regularly updated Framley Examiner Twitter account is also a great place to get your feet wet.
Looking for more great book recommendations? Check out other editions of Off the Shelf: